Who Should Use Mouth Guards to Protect Their Smiles?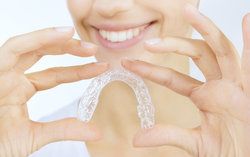 For some people, protecting the teeth from damage requires more than regular brushing, flossing, and dental visits. Those who play contact sports or are prone to grind their teeth generally benefit from wearing mouth guards. If you've already suffered dental damage as a result of sports' injury or teeth grinding, restorative dentistry treatments can be used to repair damage. Mouth guards should be worn after restorative treatments to protect the newly restore teeth. Read this overview from Boston Prosthodontics Dental Group to learn more about mouth guard uses and candidates.
Candidates for Mouth Guards
Mouth guards can be worn when the teeth are at risk of damage from sports or teeth grinding. Though any athlete could potentially benefit from wearing a mouth guard, those who should never go without one include anyone who plays a contact sport like football, hockey, and boxing. Contact sports aren't the only type of athletics in which mouth guards are recommended. Skateboarders and extreme bicyclists may also want to consider wearing mouth guards.
Other candidates for mouth guards include those who suffer from regular teeth grinding. Chronic teeth grinding generally occurs during sleep and is often a result of stress. Chronic teeth grinding is dangerous to oral health because it can wear down the teeth through friction, or create cracks within the teeth. When worn during sleep, mouth guards can protect the teeth from the damage of teeth grinding by acting as a barrier between the teeth.
Mouth guard candidates also include those who suffer from temporomandibular joint disorder, or TMD. TMD has many symptoms, most notably being pain in the jaw, clicking jaw, and difficulty chewing due to jaw joint pain. TMD symptoms can be worsened if the jaws are clenched during sleep. When mouth guards are worn during sleep, the tension on the jaws is lessened, helping to alleviate the symptoms of TMD.
Why Wear a Mouth Guard?
The teeth are used on a daily basis to chew our food and help us speak clearly. If they are damaged, they will need to be restored or replaced. This makes it more important than ever to care for the teeth you have. If you play contact sports or any athletic activity where injury to the face is a possibility, you should consider wearing a mouth guard.
Those who suffer from teeth grinding should also wear mouth guards. No amount of brushing and flossing can protect the teeth from the damage caused by the teeth rubbing against each other. In severe cases, teeth grinding can wear the teeth down, or create cracks that leave the teeth vulnerable to decay. Mouth guards can help protect the teeth from the damage of long-term teeth grinding.
TMD sufferers should consider wearing a mouth guard to help alleviate the pain and discomfort of TMD. Though mouth guards can't cure TMD, they can certainly help reduce symptoms and reduce tension of the jaw joints.
Schedule a Consultation
To find out if mouth guards are right for you, we invite you to schedule a consultation at Boston Prosthodontics Dental Group.
Related to This