Treatment for Chipped Teeth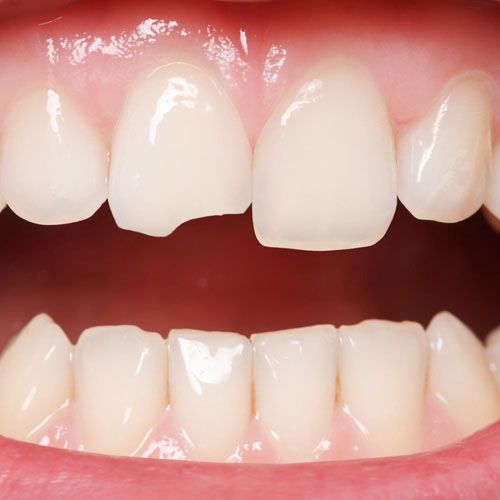 An innocent elbow to the mouth while you're sleeping; a rogue softball that went foul; even a stumble on the way to the mailbox can result in a chipped tooth. A minor chip may not cause discomfort, but larger chips will probably cause some pain and sensitivity. Further, if a chipped tooth shows when you laugh or speak, you may feel self conscious about the appearance of your smile. Fortunately, restorative dentistry treatments can repair the damaged tooth to prevent oral health problems and improve its appearance. To undergo treatment for chipped teeth, contact our Boston, MA practice today.
Dental Veneers
A tooth-colored porcelain veneer will cover your chipped tooth so that it looks complete, healthy, and attractive. Veneers have a few other benefits, as well. In addition to correcting a chip, porcelain veneers can alter the color, shape, and size of a tooth. They can also gaps between teeth. In fact, veneers have also been referred to as "instant orthodontics," because they address crooked teeth in just two dental appointments. In fact, if you've been considering a smile makeover, your chipped tooth may actually give you the perfect opportunity to explore what a new smile would look like with porcelain veneers.
Dental Crowns
For a deep chip, a porcelain dental crown is a good option. It will restore the natural appearance and the structural strength to your chipped tooth. A crown covers the exposed portion of a tooth, down to the gum line. Modern dental materials have made cosmetic crowns thinner, more translucent, and more natural looking than ever. Crowns usually require two dental visits, a few weeks apart, and you'll wear a temporary crown between appointments.
Dental Bonding
A small chip, depending on its location, may be addressed with cosmetic dental bonding. With this procedure, resin, the same material used for white dental fillings, is bonded to the affected tooth and sculpted to look natural. Then, the doctor applies light to cure, or harden, the material. After checking occlusion and polishing the restored tooth, treatment is complete - in a single office visit. Bonding can also be applied to close wide spaces between teeth or to correct tooth discoloration.
Severe Damage
In rare cases, a chipped tooth has to be extracted. Sometimes, a root canal can save a tooth with severe damage to the nerve, but in other situations, the tooth either falls out or requires extraction. If your chipped tooth results in loss of the tooth, it will need to be replaced. Dental implants can be used to secure a crown, bridge, or denture in place. A traditional dental bridge can also be placed. Dental bridges are anchored to healthy neighboring teeth with crowns, and they tend to last for at least ten years with proper care.
Schedule Your Consultation Now
If you have a chipped tooth, don't delay your visit to the dentist. At Boston Prosthodontics, a dentist will examine your tooth to determine the extent of the damage. You'll talk with the dentist so that we can understand your primary goals and expectations. Then, we'll present options for treatment and answer all of your questions. Our goal will be to provide you with the results you want, with precision treatment and comfortable care. Contact Boston Prosthodontics today to schedule a consultation.
Related to This