The Stages of Tooth Decay: How Cavities Develop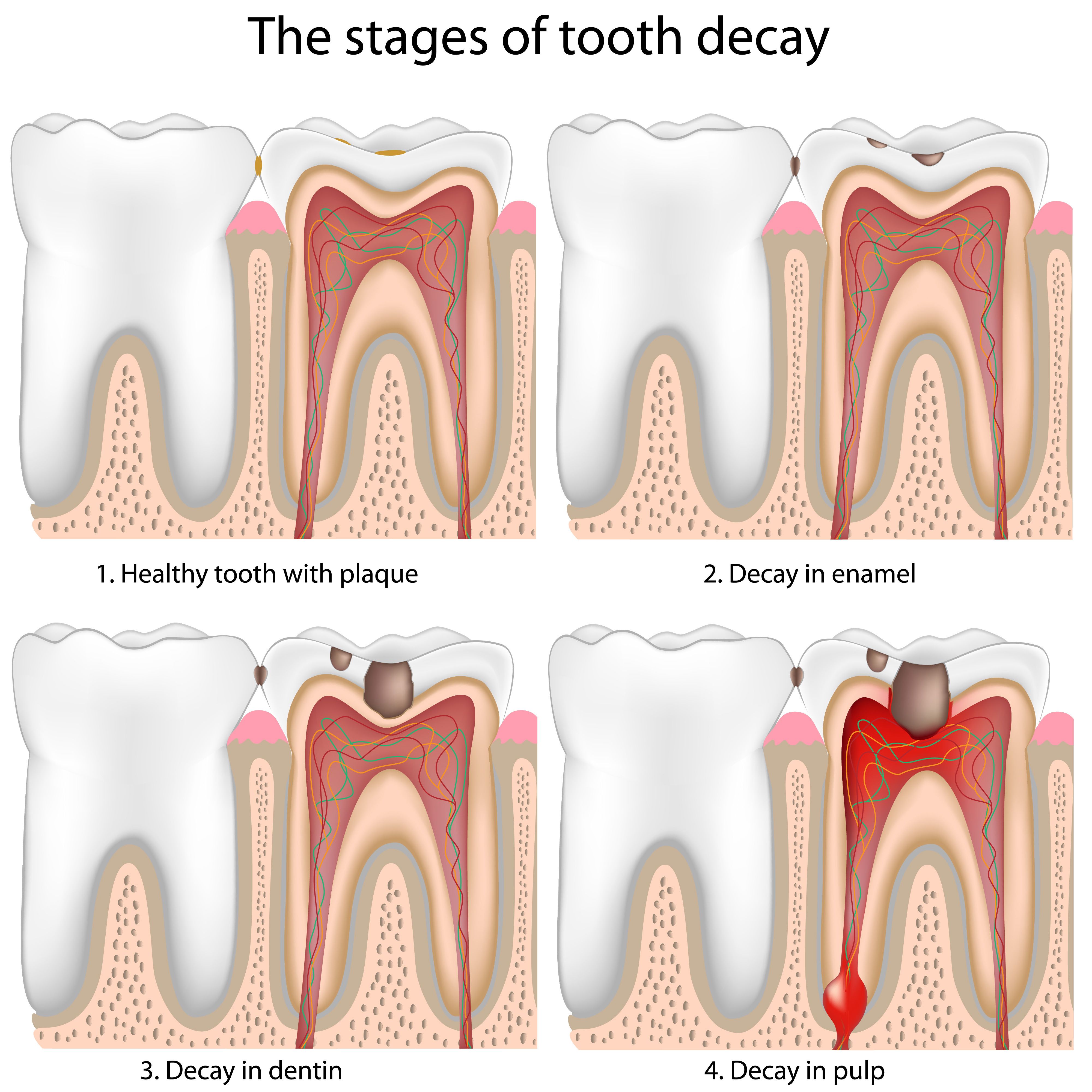 Tooth decay doesn't happen all at once. In fact, it develops in different stages, with each subsequent stage more difficult to treat and more damaging to your dental health.
The team at Boston Prosthodontics would like to consider the different stages of cavity progression. We'll cover the common signs of each stage and then briefly cover the ideal restorative dentistry treatments to address each stage of development.
Stage One – The Initial Lesion
The first stage of tooth decay doesn't even show up as a cavity in dental x-rays. This initial lesion refers to a discoloration on the tooth that serves as a sign that demineralization has started to occur. If left untreated, this lesion can develop into a full-blown cavity.
Thankfully this early sign of tooth decay can be treated and even reversed. A dentist may use fluoride treatments, dental sealants, and other kinds of treatments to protect and strengthen the tooth enamel. Patients will be encouraged to brush and floss regularly in order to avoid further progression of the cavity.
Stage Two – Enamel Decay
The next stage of tooth decay refers to actual damage done to the tooth enamel. Enamel if the topmost layer of a tooth, and it's one of the strongest substances in the human body. As oral bacteria eats and wears away at the enamel, the resulting damage is known as a cavity.
Treating enamel decay is a regular part of being a dentist. Most minor cavities are dental with using dental fillings. These restorations help replace the missing tooth enamel. In the process, the strength and structure of the tooth is restored to what it once was.
Stage Three – Dentin Decay
Beneath the tooth enamel is a porous substance known as dentin. The dentin is off-white and yellowish in color. While durable, it's not as strong as tooth enamel. When tooth decay reaches the dentin, it can spread quickly given the porous structure. An early sign of potential dentin decay is extreme tooth sensitivity.
Dentin decay is also commonly treated using dental restorations. Fillings may not be able to cut it in these situations, however. More substantial restorations such as inlays, onlays, and crowns are typically more ideal. The extent of the tooth decay will determine the right restoration to use.
Stage Four – Root Canal Infection
Inside of each tooth is a small clump of soft tissue known as dental pulp. This soft tissue is comprised of blood vessels, nerves, and connective tissue. When the oral bacteria reaches this inner part of a tooth, the resulting inflammation is known as a root canal infection. These can be very painful.
The ideal method of treating a root canal infection is root canal therapy. During root canal therapy, the diseased pulp inside of the tooth is removed and the pulp chamber is filled. The treated tooth is capped with a crown. Severe root canal infections may require tooth extraction if the tooth cannot be saved.
Stage Five – Formation of an Oral Abscess
Untreated cavities that involve the spread of infection may result in the formation of an abscess. An abscess is an accumulation of pus and bacteria in the soft tissues. When an oral abscess forms, patients must be very careful. If the abscess bursts, it can cause a severe infection, bodily shock, and a host of other serious problems.
Professional treatment is required to drain the abscess safely. Antibiotic therapy and antiseptic medications are commonly used to help prevent further infection and keep bacteria under control.
Find Out How Our Dentists Can Help
If you would like to learn more about treating tooth decay and enhancing your dental wellness, be sure to contact our team of cosmetic and restorative dentists. The team at Boston Prosthodontics will offer honest advice on the best ways to improve your dental health.
Related to This