Stages of Gum Disease: Recognizing the Warning Signs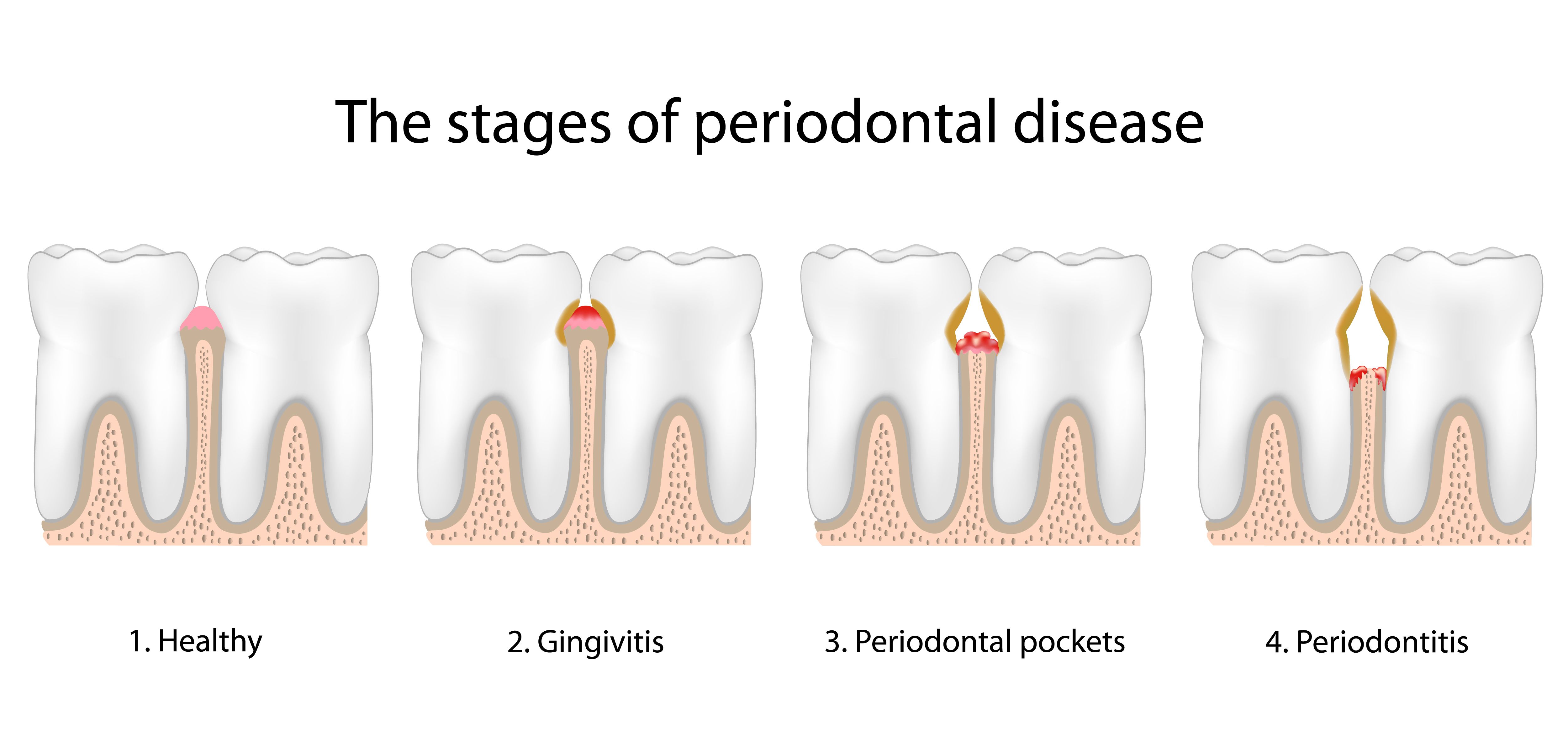 Periodontal disease is a common condition. In fact, nearly half of all Americans have it. When left untreated, gum disease can lead to a host of oral and overall health problems. In order to treat it proactively, you must be able to recognize common warning signs.
Today, our team at Boston Prosthodontics Dental Group in Boston, MA will discuss the stages of gum disease and explore the restorative dentistry treatments necessary to address the condition at all levels.
Stage 1: Gingivitis
Gingivitis is common. In fact, nearly everyone has had it at some point. This early stage of gum disease is simply the body's reaction to irritants on the teeth.
When plaque and tartar accumulate, the gums become red, irritated, and inflamed. They may also bleed, especially when brushing or flossing. It is a natural tendency to avoid oral hygiene for a few days when the gums bleed, as many patients think that leaving the area alone will improve the condition.
On the contrary, if you notice the signs of gingivitis, you should brush more aggressively and more consistently. Any bleeding will subside within a week or two.
We usually recommend a regular dental cleaning, as well. This will eradicate harmful bacteria and keep your teeth and gums healthy.
Stage 2: Periodontitis
If nothing is done to address the gingivitis, then the condition will worsen. Periodontitis not only affects the gums, but it also affects the underlying jawbone.
When the irritants are not removed from the teeth, the bacteria will populate, and infection will travel deeper into the gums. At this point, the problematic bacteria are out of reach, even with proper brushing and flossing.
To treat this condition, a deep dental cleaning is required. Also referred to as scaling and root planing, this treatment eliminates the bacteria deep below the gum line. The process is similar to a routine cleaning; however, the gums are also numbed for your comfort.
Stage 3: Advanced Periodontitis
Untreated periodontitis will worsen. As bacteria populate more and more, the infection in the gums grows and erodes the supporting jawbone. As a result, the teeth can shift and become loose.
In many cases, extensive bone grafting procedures are necessary to stabilize the teeth, and even then, the condition could result in tooth loss.
Advanced periodontitis is a serious disease that requires surgical intervention. While some moderate cases may be treatable with laser dentistry, severe cases will require incisions and stitches. The gums will be moved back, the infection will be cleaned out, and the tissues will be repositioned.
The Link between Oral Health and Overall Wellness
There is undeniable evidence that periodontal health affects overall health. The same bacteria that are present inside the mouth is also present in the rest of the body. In fact, it is being carried to your tissues and organs via your bloodstream. Gum disease is linked to cardiovascular disease, diabetes, stroke, dementia, and more. When you care for your gums, you are promoting whole-body health.
Explore Options in Gum Disease Treatments
Are your gums red, irritated, or swollen? Do they bleed occasionally? Do you notice bad breath, tooth mobility, or changes in the way your teeth fit together? To prevent the condition from worsening, schedule an appointment at our practice. You can contact us online or give us a call at (617) 523-5451.
Related to This