Composite vs. Metal Fillings:
What You Need to Know
Composite fillings, also known as tooth-colored fillings, can restore decayed teeth with highly aesthetic results. While traditional amalgam fillings are safe and effective for treating teeth affected by cavities, composite feelings provide additional benefits and are a great option for patients who want discreet restorations that blend in with their surrounding teeth. Drs. Kenneth A. Malament, Dan Nathanson, and Hans-Peter Weber can place composite fillings at their practice in Boston, MA, as a single treatment or as part of a comprehensive restorative treatment program to help you restore form and function to your smile.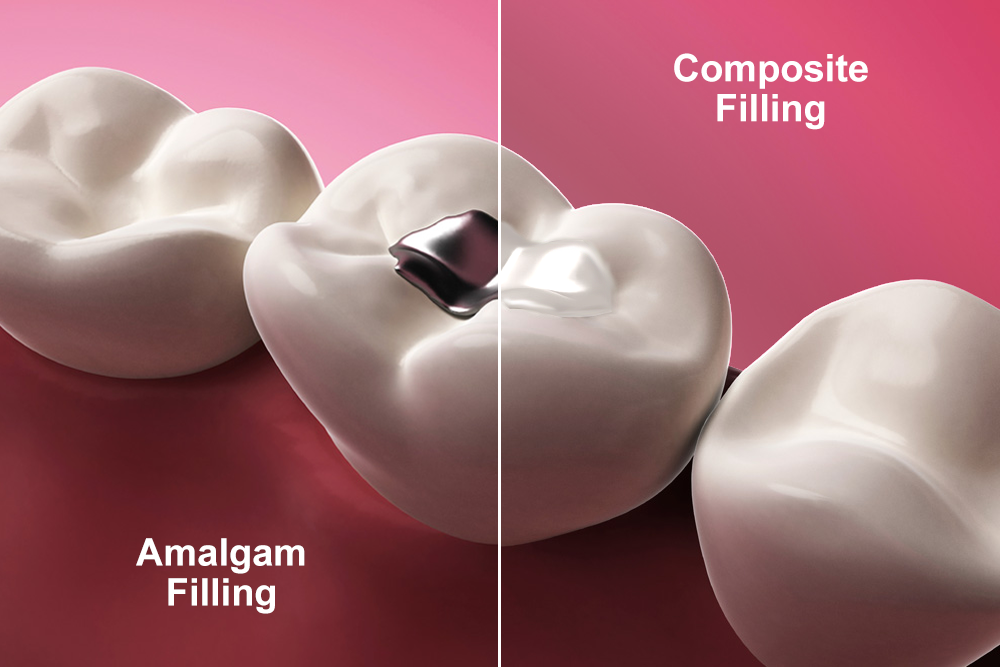 Tooth-Colored vs. Traditional Fillings
Both composite and amalgam fillings offer the same restorative benefits, but composite fillings are considered a superior option for the treatment of cavities for a number of reasons.
Materials
Although they have been used safely for years, amalgam fillings contain trace amounts of mercury. Patients who have metal allergies should also consider tooth-colored fillings. Composite fillings are made of acrylic resin and powdered glass filler and do not contain mercury.
Procedure
When receiving a traditional filling, your doctor will remove decay and surrounding tooth structure to accommodate the amalgam. However, our doctors are able to preserve more of your existing tooth structure when placing a composite filling. As there will be less alteration of your tooth, you should experience less sensitivity following a composite filling than you would with an amalgam filling. If you fracture a traditional filling, it would require replacement, while a cracked composite filling would only necessitate repair. Composite fillings are also ready for use immediately after placement, while amalgam fillings require a few hours of hardening before you can chew solid food.
Our team of dentists is committed to providing excellent, state-of-the-art restorations that feel natural and look beautiful.
Strength
When resin is applied to the tooth, it bonds to your dentin and can help strengthen your tooth structure rather than reducing the amount of natural tooth left. This makes your tooth less susceptible to weakening or breaking.
Heat Expansion
Amalgam can also react to changes in temperature, expanding or contracting in response to extreme heat or cold. This can generate pressure on the surrounding tooth structures, and, in rare cases, this pressure can lead to tooth fracture, which would require additional restorative treatment.
Although the cost of a composite filling may be higher than that of a traditional amalgam filling, you can enjoy several benefits in addition to a healthy, radiant smile. With proper maintenance and frequent follow-up visits to our office, you can enjoy your tooth-colored fillings for years to come.
Why Choose Us
As prosthodontists, our team of dentists is committed to providing excellent, state-of-the-art restorations that feel natural and look beautiful. Prosthetics are our specialty, and we provide each step of the restoration process from simple procedures such as fillings to complex, full mouth rehabilitations. At our office, you can rest assured that you are receiving advanced care from dentists with decades of experience.
Call Our Office
The only way to determine whether you are a good candidate for a tooth-colored filling is to schedule a consultation and review your unique case with one of our doctors. To find out more about the advanced procedures offered at our practice, call us at (617) 523-5451 or submit an online form.