Oral Appliance for Sleep Apnea
Sleep apnea can cause you to snore loudly, wake up several times throughout the night, and increase your risk of serious health conditions. Drs. Kenneth A. Malament, Dr. Alissa Mariano, and Hans-Peter Weber at Boston Prosthodontics Dental Group offer an effective, non-invasive treatment via a custom oral appliance for sleep apnea provided at our Boston, MA, office. With our help, sufferers of snoring, sleep apnea, and other sleep-related breathing disorders can receive effective relief for their conditions. Our doctors use oral appliances that can be designed to your unique specifications, gently opening airways and improving your quality of life. These devices are one of the most effective treatment options available for sleep-related breathing disorders.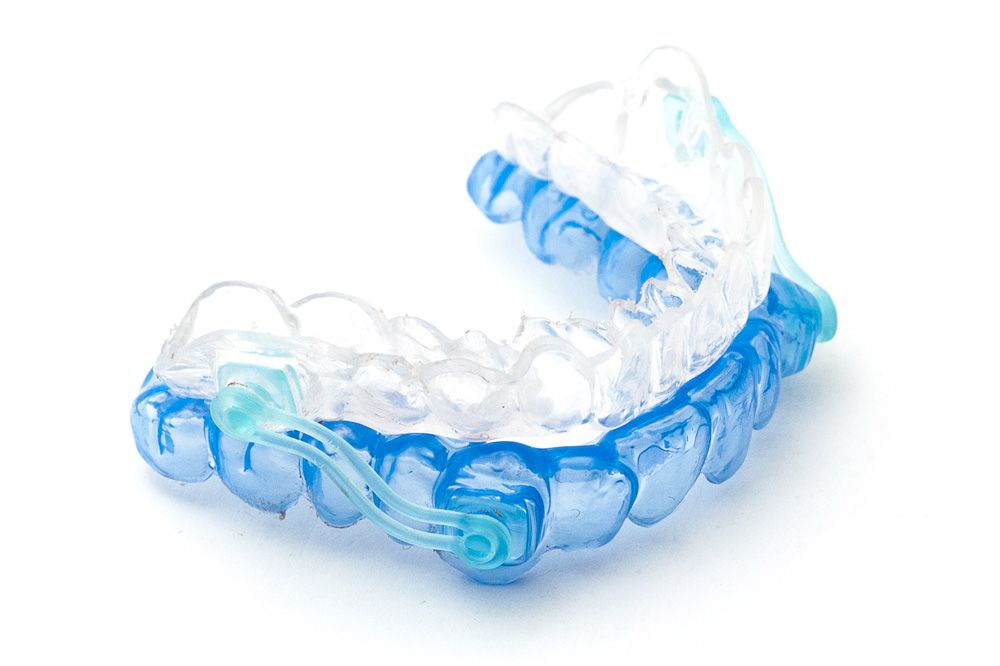 Custom Devices for Effective Treatment
An oral appliance is a custom-designed mouthpiece that fits over your teeth. After assessing the source of your sleep apnea, our doctors will help you decide which type of device will best suit your needs and decrease your symptoms. Oral appliances can treat a variety of different conditions but are often used to provide a gentle, non-invasive solution, and proven treatment for sleep apnea. A custom-made oral appliance for sleep apnea works by gently pushing the lower jaw into a slightly forward position. This shift can prevent the soft tissues from collapsing and blocking airways during sleep. While continuous positive airway pressure (CPAP) machines are also highly recommended by many doctors, oral appliances can provide quieter, more comfortable treatment for those who qualify. An oral appliance is easily transportable, makes no noise, and offers immediate and comfortable relief, allowing patients to enjoy more restful sleep and greater energy throughout the day.
What to Expect
The first step in treating snoring or sleep apnea is to meet with our doctors. They will discuss your symptoms, review your medical history, and conduct a thorough examination. If they suspect you may be suffering from sleep apnea, they may recommend a sleep study to obtain an accurate diagnosis. Our doctors recommend oral appliances for most patients because of their simplicity and effectiveness. Using the data obtained during your sleep study, as well as measurements taken from x-rays, our team can design a custom oral appliance.
If you are looking for a simple, comfortable, and non-invasive treatment for your sleep-related breathing disorder, oral appliance therapy may be right for you.
You will typically only wear this appliance when sleeping. In some cases, oral appliances can even be combined with CPAP therapy for more effective treatment. Once you receive your custom oral appliance, you will likely notice immediate improvements in your snoring or sleep apnea symptoms. Most patients begin sleeping more deeply and have more energy throughout their day within the first week of beginning oral appliance therapy.
Call Us for Your Custom Appliance
If you are looking for a simple, comfortable, and non-invasive treatment for your sleep-related breathing disorder, oral appliance therapy may be right for you. Whether you have been diagnosed with sleep apnea or you are in need of a diagnosis, Boston Prosthodontics Dental Group can help. Contact us online or call (617) 523-5451 to schedule your screening and get fitted for your custom-made oral appliance for sleep apnea.